Lighting the Way Home for Homeless Youth/Families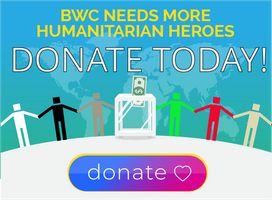 The COVID-19 pandemic may have disrupted our normal systems of work, social life and recreation, but the issue of youth and family homelessness continues to persist. Right now our youth shelters are operating 24/7 while schools are closed. Our staff is working around the clock to provide the necessary support for our youth. The costs of providing food and meals has increased; extra caution is being taken to keep our facilities sanitized, clean and safe; and BWC is working diligently to keep our clients connected and away from isolation. Join us by stepping up and standing with homeless youth and families during this time. Make your donation today!
---
Comfort at the time of loss ...
BWC's Centre for Living with Dying provides guidance and comfort for families dealing with loss or death. Here is a story about a mother who passed away many miles from her family in San Jose.
A local family reached out to the Centre for Living with Dying because they were conflicted in saying their final good bye to a terminally ill mother hospitalized in New York.  How could they be with her during this time of shelter-in-place and travel restrictions?  At the suggestion of the Centre's counselor, the family, who are spread amongst multiple households, decided to organize a FaceTime gathering. Together virtually, they lit a candle for their mother's health and peaceful rest.
In the meantime, a nurse from the hospital in New York was attempting to ease the mother's grief and let her know that she was not alone.  The nurse telephoned a family member to see if a Face Time call could be arranged.  That phone call came during the virtual gathering that was already taking place.  Since the CLWD had already arranged the virtual gathering, the nurse scrambled to get the mother online as quickly as she could.
Together, the family got to see their mother and said their final words to her: "Mom… you can let go. We are all here with you. It will be ok." They all watched as their mother's breath slowed to the point of her last breath. She passed away while her family watched, and she truly wasn't alone. With guidance from the CLWD, the family prayed and sent her off in the best way they could.
How incredible that this timing worked out perfectly – with the family online, the nurse making the call and then coordinating everything during her long and busy shift, and the mother knowing it was her time to let go. This is just one of the many ways the Centre for Living with Dying helps those who are physically separated from their loved ones.
---
Pandemic Impact of BWC Youth & Families
Bill Wilson Center's COVID-19 Rapid Needs Assessment Report has found that homeless youth and families are struggling to meet basic needs such as paying rent, securing food and keeping safe. The report provides a startling picture of the despair felt by clients who are unsure how they can care for themselves and their families while sheltering in place.
---
BWC thanks our sponsors for their matching funds